DISCLAIMER: As the COVID-19 public health situation evolves, new regulations are being continually issued. This page/story/information may not include the most recent information.
by Ryan Smith 24 Sep 2020
Serious delinquency rates dipped in September for mortgages and other credit products – but potential challenges remain ahead for borrowers, according to a TransUnion report.
Serious delinquency rates improved last month for mortgages, auto loans, personal loans and credit cards. Since the start of the COVID-19 pandemic in March, mortgage delinquency rates have seen steady month-over-month improvement.
"A significant percentage of consumers utilized financial accommodations to defer or freeze payments during the early stages of the pandemic," said Matt Komos, vice president of research and consulting for TransUnion. "As the first wave of consumers exit accommodation and a period of excess liquidity, they are returning to their debt obligations and continuing to perform. Consumers who still remain in hardship could be more likely to face income losses and thus have more difficulty exiting these programs than consumers who may have entered into hardship programs as a precautionary measure."
Consumer delinquency performance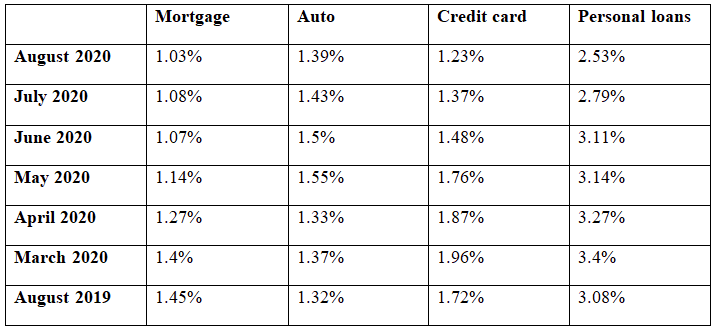 Source: TransUnionTransUnion's September Monthly Industry Snapshot Report found that the percentage of accounts in "financial hardship" status continued on a downward trajectory in September for mortgages, auto loans, credit cards and personal loans. TransUnion's financial hardship data includes all accommodations on file at the end of the month and any accounts that were in accommodation prior to the onset of the COVID-19 pandemic.
Across all credit products, the share of accounts in financial hardship fell to pre-May levels in September.
"Accommodation programs provided consumers with payment flexibility and added liquidity during the course of the pandemic," TransUnion said in the report. "However, as the number of consumers leveraging such programs decreases and government relief funds are not expected to renew, many consumers may find themselves at an inflection point."
While serious delinquency rates continued to fall last month, TransUnion observed some negative movement in 30-day delinquency rates – which the credit-rating agency said may serve as an early warning that an account will default. That metric ticked up slightly last month for the two largest payments for consumers – mortgage and auto loans.
"The uptick for both products could signify that consumers are starting to roll forward on deferred payments as they come off hardship programs," Komos said. "However, it's still much too early to tell. It could simply be a missed or delayed payment that is late by a few days or weeks, though the consumer's intention is still to make the payment."
TranUnion also reported that COVID-19 continues to financially impact consumers. While the percentage of financially impacted consumers fell to 52% – the lowest level since the company's Financial Hardship Survey began in March – 75% of those impacted remain concerned about their ability to pay their bills and loans. TransUnion found that about a third of impacted consumers are tapping into savings to pay bills and loans.